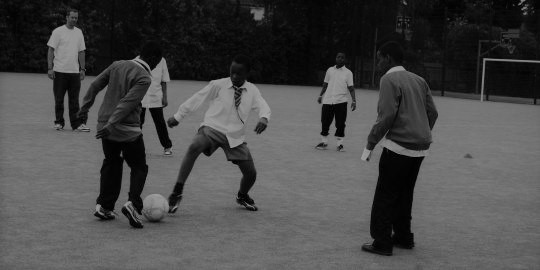 The Trustees of The Hargreaves Foundation are pleased to provide funding to the Sport & Thought programme delivered by the Brent Centre. The Brent Centre is an internationally renowned psychoanalytic therapeutic centre for young people in North West London.
The programme will support 15 adolescent boys who are on the fringes of school life, displaying severe emotional/behavioural issues and at high risk of exclusion. A third of young people supported by the Brent Centre are dealing with the effects of abuse, violence at home, bullying, past traumas and at least 80% have experienced family disruption.
During Sport & Thought sessions young people take part in football training drills and matches with others. The therapist will also join in, talking about football and behaviour.
The sessions aim to help young people understand their actions, and how they can make changes to avoid trouble in school or with friends. Sessions can also help young people feel more positive about their future, and help them to make the most of their time at school.
"We know that sometimes one to one therapy can be daunting. The Sport & Thought programme uses football to breakdown those fears, allowing young people to engage, experience participatory sport, strengthen their mental health and nurture better relationships and behaviour."
Nigel Bence, May 2021